European Bank for Reconstruction and Development - EBRD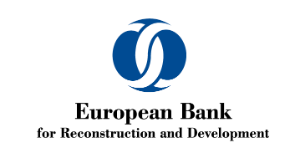 The European Bank for Reconstruction and Development - (EBRD, www.ebrd.com) was established in 1991. Its headquarters is in London (United Kingdom). Since its establishment, the EBRD has been an important investor in its region of operations, which stretches from Central Europe and the Western Balkans on one side to Central Asia and the Southern and Eastern Mediterranean region (SEMED) on the other. The EBRD uses a range of investment tools to help build open and market economies in its 38 countries of operations.
The EBRD is the largest single investor in the region and mobilizes significant foreign direct investment into its countries of operations. Its shareholder base constitutes 71 countries and two intergovernmental institutions (the European Union and the European Investment Bank).
The EBRD provides project financing for the financial and the real sectors, supporting both new ventures and existing companies. It also works with state-owned companies to support their restructuring, privatization, and also improvement of municipal services. The Bank uses its close relationship with national governments in the region to promote policies that bolster their business environment.
Each shareholder is represented on the Board of Governors, which has overall authority over the EBRD. Under the guidance of the Board of Directors, the President manages the EBRD's work. The Executive Committee and senior leadership group advise the President and oversee EBRD activities.
---
The Slovak Republic and the EBRD
The Slovak Republic joined of the EBRD in 1991. The Slovak Republic is a member of a Constituency together with the Czech Republic, Hungary, the Republic of Croatia and Georgia.
The Director representing the Constituency in the Board of Directors is Ms Klára Król (Czech Republic) and the Alternate Director is Mr Antal Nikoletti (Hungary).
The Governor for the Slovak Republic in the Board of Governors is the Minister of Finance of the Slovak Republic and the Alternate Governor is the Governor of the National Bank of Slovakia.
---
EBRD Activities in the Slovak Republic
The EBRD has been active in the Slovak Republic since 1992. The Bank has been an active participant in the Slovak Republic's successful transition to a market economy, financing mainly private sector projects across a broad spectrum of economic sectors. Since 1992, the Bank has committed around EUR 2.6 billion to its operations in Slovakia.
More information:
Slovakia and EBRD:
Slovakia as an EBRD donor:
Countries of operations:
Governing Bodies:
---
Contact
European Bank for Reconstruction and Development
One Exchange Square
London EC2A 2JN
United Kingdom
www.ebrd.com
Regional EBRD Office in Slovakia
European Business Centre (block C, 2nd Floor)
Suché mýto 1
SK - 811 03 Bratislava
Slovak Republic
Tel.: +421 2 5910 1700
www.ebrd.com